This function measures visual recognition effects of digital signage. It estimates the number of people who passed by digital signage as well as the number of those who looked at it. For those people who looked, it also estimates the types of customers (gender and age) along with the distance from the signage and the length of time they watched it, then quantifies the worth of visit as a number.
Considering personal information and privacy issues, FieldAnalyst for Signage can be used safely in places where unspecified numbers of people visit as cameras do not record any images and only record data containing analysis results.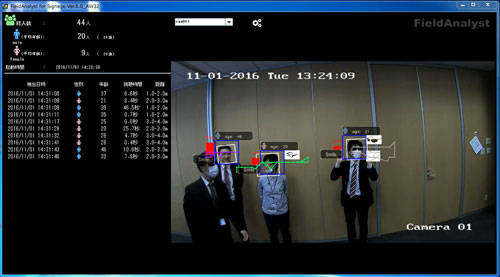 Scheme of FieldAnalyst for Signage
Detection of people (upper body including head) occurs when standing/passing in front of the digital signage from images captured by video cameras in real-time.
Those people whose faces are directed at digital signage are also detected.
Gender and age is estimated automatically based on detected images, simultaneously counting the number of visitors.
Data estimates of gender, age and number of visitors is output as a CVS file.
Analysis of Complied Data
Using FieldAnalyst for Signage's data logs, users can create their own graphs from the estimated data.
A sample analysis tool, provided separately, visualizes the log data in graphs shown as below.
Advantages of Installation
Quantifying Worth of Visit
Quantifying the worth of visit according to customer data to provide an effective, unbiased evaluation.
Measuring Visual Recognition Effects
Unbiased statistics of people who watch the digital signage is possible.
Data Collection 24-hours, Everyday
FieldAnalyst collects data anytime, and can output results on a daily, weekly and monthly basis.
Automatic Data Collection from Images in Real-Time
FieldAnalyst estimates the gender and age of people from images, and displays the data in real-time without any manual operation.
Consistent Criteria Maintained by System
Unlike traditional manual operations, FieldAnalyst performs analysis based on fixed criteria at all times, thus providing highly credible marketing data.
Simultaneous Survey in Multiple Locations
Compare data from multiple locations taken at the same time allowing effective strategies for comparison across sites.
FieldAnalyst for Signage (Windows)
FieldAnalyst for Signage (Linux)
CPU
Core i7 6700TE or higher *1
Memory
4.0GB *1
Supported Operating Systems

Windows

Windows 7 SP1 (32-bit, 64-bit)
Windows 8.1 Pro (32-bit, 64-bit)
Windows 10 Pro (32-bit, 64-bit)
Windows Server 2012 R2

Linux

Red Hat Enterprise Linux Workstation v6.4 (64-bit)
*1:

When using up to 3 cameras with VGA input