NEC Multi AI Platform
NeoFace KAOATO
Structure of NEC Multi AI Platform.
This provides various functions including camera control and the video recording to the AI model corresponding to the common interface.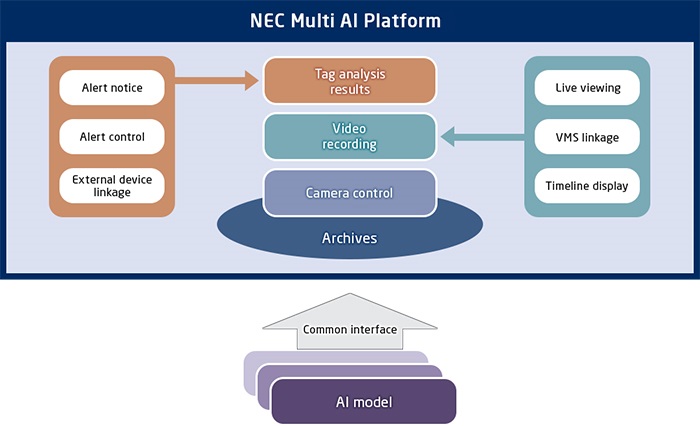 This acquires live video from video devices including IP camera and USB camera.
This records acquired video on the basis of still image.
This records the associated recorded video and AI analysis results with time stamp.
This controls alert level by threshold value setting based on the AI analysis results.
This sends an alert in various types of methods including screen display, Patlite and mail.
This enables linkage with external devices including automatic door, flapper gate and elevator with contact signal and TCP notification.
This displays AI analysis results on live viewing.
This enables to link with recorded video captured by MileStone XProtect. Video analysis recorded on XProtect is also available.
This displays AI analysis results with thumbnail of still image in chronological order.
Tool kit enables flexible edge computing system construction provided by Intel Corporation.
A Pose Estimation AI engine, enabling high-precision analysis for human skeletal and pose information, provided by NEXT-SYSTEM Co., Ltd.
This can analyze not only camera images but also still images and videos without markers.
Two-dimensional color barcode authentication system provided by InfoFarm co., Ltd.
NEC Value-added Time Measurement Solution
This solution detects the positions of camera-captured hand / human etc. quantitatively and measures value-added time by image recognition technology provided by NEC Platforms, Ltd.
Please contact us for Compatible AI Models details.